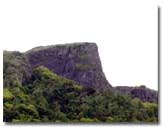 Beann Mhadagáin
Cavehill
Clólann Bheann Mhadagáin (Ben Madigan Press)
Clólann Bheann Mhadagáin (or Ben Madigan Press) was established in the year 2001 to provide Irish books, especially for adult learners and for Irish-medium education.
Beann Mhadagáin ('The Cliff of Madagán', or 'Little Dog', a ruler in Gaelic history) is the Irish name for Cavehill, the hill which stands over the city of Belfast.


A.J. Hughes MA, MésL, PhD
The Author

Dr A.J. Hughes MA, MèsL, PhD, PGCHET is the Director of Ben Madigan Press. Although he has expertise in all historical phases of the Irish language, he has twenty-five years experience teaching Modern Irish. He is the co-ordinator of the course at University of Ulster Belfast entitled Diploma in the Irish Language.